Gov. Patrick eyes the future, one line item at a time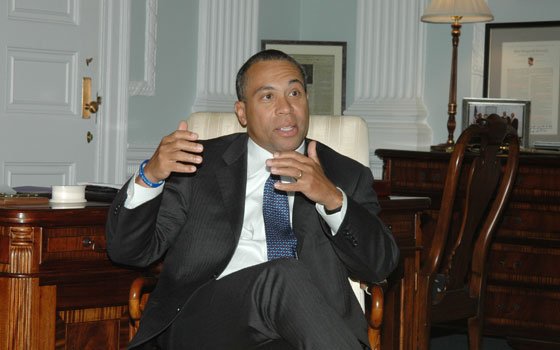 Even in defeat, Patrick saw a good-faith effort in trying to solve all that ails the state.
And that's the point. At least Patrick is talking about more than raising taxes or slashing budgets.
"For the first time," Patrick smiled, "we are talking about the Commonwealth as a revenue producer. We're not 'Taxachusetts' anymore. We want to be very competitive."
It couldn't come at a better time. Given the state of the national economy and the ever-increasing cost of living for Massachusetts residents, Patrick faces one of the biggest hurdles in recent state history — the challenge of keeping people here.
To do so will require job growth and business development, closing up loopholes and retooling a workforce to handle the variety of jobs in emerging fields like life sciences and renewable energy.
It's more than just talk with Patrick. Last month, the governor announced $276,466 in workforce training grants to five companies in the Merrimack Valley region. The grants were a small part of almost $18 million in grants to 200 companies across the state to train an estimated 16,000 workers.
Closing the unintended tax loopholes alone is expected to generate about $297 million in fiscal year 2009. As part of that measure, Patrick — popularly mischaracterized by conservatives as the quintessential tax-and-spend liberal — reduced the corporate tax rate from 13 percent to 8.3 percent over three years. Patrick estimates that in its first year of implementation, the tax cut for businesses would put about $200 million back in the hands of business owners.
And as Patrick points out, that legislation passed both houses of the Legislature without serious bickering. As did his legislation that could turn the Commonwealth into an alternative and renewable energy powerhouse.