City's first West Nile case found in Jamaica Plain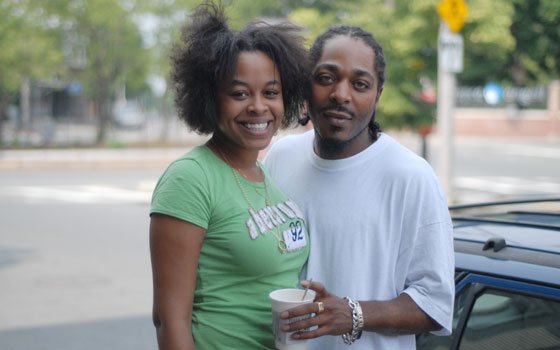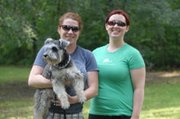 Shaneka Johnson and her boyfriend, Russell Allen, were passing by Centre Street in Jamaica Plain when the Banner caught up with them. Johnson had just been bitten by a mosquito and was a bit scared when she heard about the red-tailed hawk infected with West Nile virus. (Daniela Caride photo)
In the first case of West Nile virus in Boston this season, a red-tailed hawk found in Jamaica Plain tested positive for the mosquito-borne illness, the Boston Public Health Commission (BPHC) announced last week.
There have been no confirmed cases of the virus in humans so far. The commission runs tests for the virus in dead birds found in the city, as well as in mosquitoes, humans and horses.
Dr. Anita Barry, director of the communicable disease control division at the city health commission, said the finding indicates that the virus is likely present in other birds and mosquitoes in a several-mile radius around the location where the hawk was found, but said it should not be a reason for great alarm.
She said the West Nile virus poses a very low risk to humans and that there is no chance of an outbreak if people take the necessary steps to protect themselves.
"This could be a very good year if people follow the guidelines to preventing mosquito bites," Barry said. "We could have no cases [in humans] or a very small number of cases this summer."
Last year, one human was reported infected in the city of Boston. According to Barry, that person was infected during a trip out west and returned home already ill.
Since the West Nile virus usually infects people through a bite from a mosquito carrying the disease, Barry recommends residents use insect repellent when outdoors, especially from dusk to dawn, when mosquitoes are more likely to bite. She also recommends wearing long sleeves and pants.
News of the West Nile finding had some in Jamaica Plain concerned this weekend.
"I got a mosquito bite right now," says Shaneka Johnson, 20, a bit scared when she heard about the infected bird.
She and her boyfriend, Russell Allen, 29, were passing by Centre Street on Sunday morning while visiting relatives in Jamaica Plain. They both said they planned to start using insect repellent right away.
Jess Akeley, 28, and Kate Swope, 27, who live in Jamaica Plain, also got worried when they found out about the first infected bird and said they plan to start using repellent. They said they have noticed an increase in the number of mosquitoes in recent weeks while walking their dog along the Jamaicaway.
"We should definitely keep it in mind. It's concerning," said Swope, who works for National AIDS Strategy, an HIV service organization. "But [authorities] have to be careful not to scare people."
Because there is no medicine that vanquishes the virus, according to the BPHC's Barry, treatment is based on supportive measures, such as giving sick people plenty of fluids to keep them hydrated and medication to control fevers.
West Nile virus can appear as a mild fever or as more serious diseases, such as encephalitis and meningitis. But less than 5 percent of infected people present any symptoms, Barry said, and only 1 to 2 percent get very sick.
"The elderly appear to be at higher risk of getting really sick when they get the disease," she said.
Another means of protection, Barry noted, is to prevent mosquitoes from breeding. She advises some regular measures such as clearing standing water by turning over unused flowerpots, buckets, wheelbarrows and garbage cans. She says it is also important to clean gutters and birdbaths regularly, as well as cover tires and swimming pools when not in use.
"People should also make sure that their window and door screens are in good repair so they aren't providing a home for mosquitoes to breed," Barry added.
In April, the BPHC started placing larvicide in catch basins designed to reduce large mosquito populations. The commission is also distributing educational material to keep the population informed on prevention.
For more information on West Nile virus and local prevention efforts, visit the BPHC's Web site at www.bphc.org.