A worthy ideal
12/16/2008, 9:42 a.m.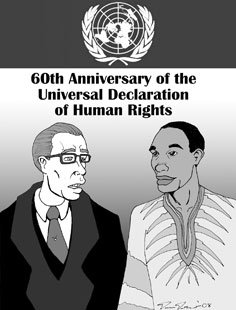 A worthy ideal
"Well, it would have been a hell of a lot worse if we didn't have it."
Americans have long been inspired by the Declaration of Independence, which states in part: "We hold these truths to be self-evident, that all men are created equal, that they are endowed by their Creator with certain unalienable Rights, that among these are Life, Liberty and the pursuit of Happiness." Fifteen years later in 1791 came the Bill of Rights, the first 10 amendments to the U.S. Constitution, to specify how the goals of the declaration would be implemented.
This nation has undergone grievous turmoil in the process of assuring its solemn commitment to human freedom. It is appropriate, then, for Americans to understand the magnitude of the effort to bring similar rights to all of humanity.
On Dec. 10, 1948, a mere 60 years ago, the General Assembly of the United Nations adopted the Universal Declaration of Human Rights. Its Preamble states in part: "Recognition of the inherent dignity and of the equal and inalienable rights of all members of the human family is the foundation of freedom, justice and peace in the world."
World affairs have deviated far from that objective, but the effort has been underway for only 60 years. As is evident from the American experience, such progress is slow in coming, but it is indeed worth the effort.
A needless conflict
Intergenerational conflict is a standard aspect of human behavior. African Americans are not at all immune from this trait. In fact, many members of younger generations seem quite restive with complaints that the elders are unwilling to cede leadership roles to them.
Perhaps a better understanding of history would palliate their anxiety. Malcolm X began his rise to prominence at age 27 and was killed 12 years later. Martin Luther King Jr. became the leader of the Montgomery bus boycott at age 26, and the rest, as they say, is history. He was only 39 when he was assassinated.
The NAACP recently named Benjamin T. Jealous, at the youthful age of 35, as its new president. And Barack Obama was just elected president of the United States at the age of 47.
None of these leaders were anointed. Their talents and capabilities were recognized by others who pushed them forward. Rather than complain, it would be more useful for the younger generation to develop the skills and qualities that would assure them significant positions in the future.
The wrong arm of the law
Hollywood often depicts politicians like city councilors and state representatives as energetic statesmen that enter office with unique proposals for policy change. With great charisma, they capture the imagination of the public and usher in a new age. But that is indeed fiction. The major work of lower-level public servants is constituent services.
The job of city councilors is to help citizens traverse the perilous web of city bureaucracy. Now we see that there can be great risk in doing so. U.S. Attorney Michael J. Sullivan has charged City Councilor Chuck Turner with conspiracy in a plot allegedly hatched by former state Sen. Dianne Wilkerson to obtain a liquor license for the proposed Dejavu nightclub.
The real strategy here is to find a hook to implicate Turner. The case against him is so thin that the only hope for a conviction is to make him also liable for Wilkerson's conduct. A conspiracy charge makes it more complicated for Turner's lawyers to separate the trials. It is unlikely that Turner could be convicted in a separate trial for bribery or extortion.
This latest FBI tactic places an enormous burden and risk on public officials who agree to cooperate with their peers. To what extent are they now obligated to ascertain whether those peers seeking their assistance are acting lawfully?