Via NYC honor, RFK still bridging society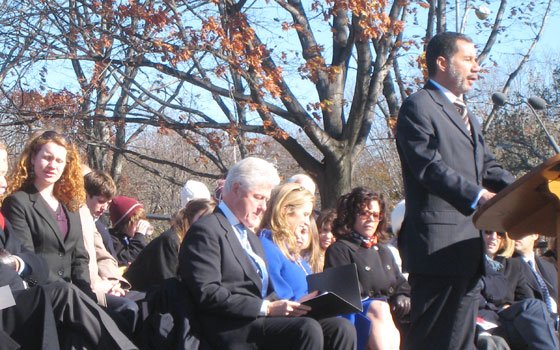 "A questioner declared that few churches allow black Africans to pray with the white because the Bible says that is the way it should be, because God created Negroes to serve," wrote Kennedy. "'But suppose God is black?' I replied.
"'What if we go to Heaven and we, all our lives, have treated the Negro as an inferior, and God is there, and we look up and He is not white? What then is our response?' There was no answer. Only silence."
President Clinton recalled Kennedy's work as attorney general to force the desegregation of Southern universities, lunch counters, bus stations and water fountains, while taking personal charge of the John F. Kennedy administration's civil rights efforts.
"He moved a generation by reminding us that together we can cross any divide and overcome any adversity, as long as we do it together," said Clinton. "Every time we cross that bridge, if we remember that, it's the greatest honor we could ever do to his legacy."
The newly re-christened bridge — best known for getting passengers from LaGuardia Airport into the city — connects Queens, Manhattan and the Bronx in a series of three bridges spanning two islands and three rivers. With working-class whites in Astoria, African Americans in Harlem and Latinos in the South Bronx, the Robert F. Kennedy Bridge links the populations he fought for throughout his career in public life.
"My father believed that our nation would be judged by our future generations, and that we would be judged not so much by the size of our armies, the throw-weight of our weapons, or the power of our industries," said environmental attorney Robert F. Kennedy Jr., the late senator's son.
"But rather," he continued, "how we cared for the least fortunate members of our society, how strongly we protected the principles upon which our nation was founded — human rights abroad and civil rights at home — and how strongly we resisted the seduction of this notion that we can advance ourselves as a nation by leaving our poor brothers and sisters behind."
After the ceremony, Kennedy family members and close friends climbed into a motorcade of vintage automobiles for the first official crossing of the Robert F. Kennedy Bridge. The sight of antique Packards and Fords, joined by classic cars of the 1950s and '60s, re-enacted President Franklin D. Roosevelt's 1936 motorcade after the dedication of the Triborough Bridge, the first major public works project of the New Deal administration.
"This isn't just about renaming a bridge," said Kerry Kennedy, director of the Robert F. Kennedy Center on Human Rights. "It's about building bridges, both to the past and to the future."