Via NYC honor, RFK still bridging society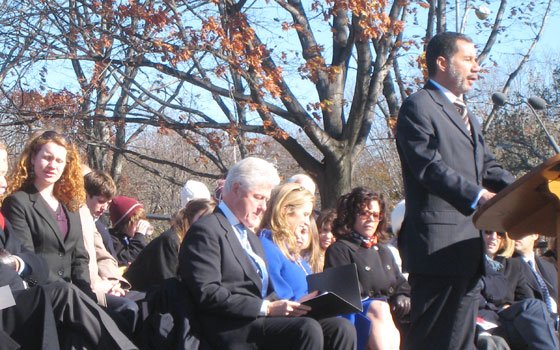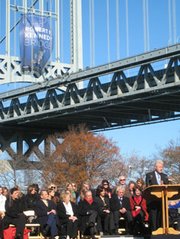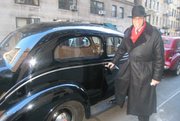 NEW YORK — As a Harlem schoolboy, David Paterson dreamed of one day sharing a stage with U.S. Sen. Robert F. Kennedy. But the dream was shattered with the death of his political idol when the future New York governor was 14.
On a blustery November morning, Paterson recalled his teenage sorrow while taking the stage with Ethel Kennedy and scores of Kennedy relatives to re-name the Triborough Bridge in honor of his home-state senator.
"Generations to come will remember your husband and the great friend of America, Robert F. Kennedy," said Paterson to the widow of the late senator as he stood, hatless and coatless, hands tightly gripping the podium, in the cold autumn sun before a hushed crowd.
Moments later, the Empire State's first African American and first blind governor, who signed the bridge re-naming bill into law last August, joined former President Bill Clinton and New York City Mayor Michael Bloomberg to unveil a "Robert F. Kennedy Bridge" road sign and make the change official.
The normally querulous New York political establishment, with Albany legislators and New York City Council rivals in the audience, set aside its caustic budget and political debates for a morning of solidarity.
No better symbol of the amity on display could be imagined than former Mayor David Dinkins, the city's first black mayor, sharing a blanket over his legs with his outspoken predecessor, former Mayor Ed Koch, who was ousted by Dinkins after a series of racially charged incidents rocked the city in the 1980s.
The ceremony, held in Astoria Park, Queens, beneath the busy span, drew hundreds of Kennedy family friends and Robert F. Kennedy associates. They shared memories of the senator, who was eulogized as a man whose passion and eloquence built bridges between black and white, young and old, southern and northern — especially in his last campaign, the historic 1968 run for the presidency.
"Like the great bridge that stretches above us, he tied us together — people of every color, every class, and every creed," said Bloomberg. "He united us as New Yorkers and as Americans."
According to one of Kennedy's former Senate aides, Black Enterprise magazine founder Earl G. Graves Sr., the senator's vision of a more just world embraced not just political evolution but theological speculation as well.
"In 1968, just before he died, Robert Kennedy predicted a black man could be elected president within 40 years," noted Graves, citing the senator's remarks during a national radio broadcast.
Kennedy said: "Things are moving so fast in race relations. A Negro could be president in 40 years. There is no question about it. In the next 40 years, a Negro can achieve the same position that my brother has."
While Barack Obama's landslide White House victory fulfilled Kennedy's political prophecy, there is no way of knowing, at least here on Earth, the answer to the question Kennedy asked in a 1966 Look magazine essay, "Suppose God Is Black?"
Written just after his return from South Africa, Kennedy described an encounter with whites who believed in a biblical justification for apartheid.