The Commonwealth School: Open eyes and open minds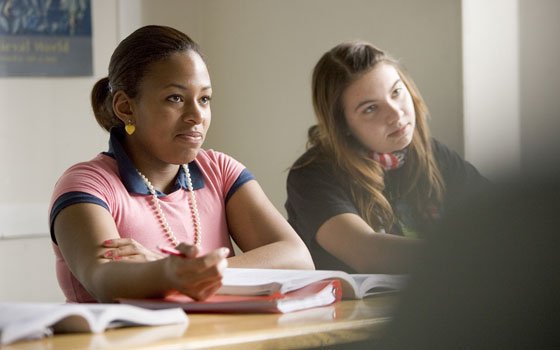 The school asks much of its students, but they are not expected to succeed alone.
"The biggest thing that makes Commonwealth different from other schools is that we're all really close," says Symone. "I know I can call my advisor any time, even at home. He's like a father to me, and every one of my friends has a teacher like that."
This warm and welcoming community provides informal and formal support. The Homework Project, a new addition, identifies students who are having trouble completing assignments on time, and invites them to sign up for 10-week blocks of guided study time after the regular school day, with meals and transportation provided.
"I think Commonwealth has made my passion for social justice stronger," says Symone, who plans to major in women's studies and public health in college. "I want to eradicate poverty, and work especially with the black population and immigrant populations. I'd like to work on HIV/AIDS prevention also."
The scholarly excitement, artistic exuberance, respect for each individual, and close friendships among students and teachers creates a unique experience. Students emerge ready to face the new challenges of college and adulthood. They do so with impressive results — popular college choices in recent years include Princeton, Yale, Harvard, Carleton, and Bryn Mawr.
Symone Williams sums it up this way: "Everything I've learned at Commonwealth makes me want to change the world."